Point of Access:
- Home page or forum
STATS
button (will be added soon) or link in Player Stats forum section.
Layout:
-8 web pages of player stats (player stats [individual], skill, objectives, awards, weapons, players [all names]) server(map being played, traffic, votes, players etc...) and admin log (summary of who used what admin commands).
Sample s/s of homepage of Stats page:
Periods Tracked:
day, week, month or all-time
Awards/Stats Tracked (4 web pages):
1.
Skill
(kills, deaths, most suicides, killing sprees, highest spree, headshots, highest score, best ratio, accurate, wins, loses, backpacks, refreshes).
2.
Objectives
(flag captures, flag defends, case captures, case defends, bombs planted, bombs defused, rescues, CTF, DOM, TDM, INF, ELIM, DM and SAB winners).
3.
RPM Awards (RPM awards)
(Best overall, Headhunter, Killer, Accurate, Untouchable, Explosives, Knife handling).
4.
Weapons
(accurate, assault rifle accuracy, sniper rifle accuracy, explosives expert, M4 scoper, sniper no-scoper, AK stabber, bludgeoner, pistol whipper and award per each weapon).
Other web pages/stats (3 web pages):
1.
Players
: Click in here to find all players. You can then click the player to see the individual player stats for that person.
2.
Player stats
: A comprehensive page that will show you various stats about yourself (or any other player if you access that player from point 1, above):
- Shows player game name and forum name.
- Shows a star chart showing your server rank.
- 21 awards and your ranking from the Awards/Stats tracked summary listed above. Some awards have been combined into 1 icon award (Combat= Deaths & Kills). Some awards have also been combined to make a new award (Noob= Refreshes & Suicides).
- 4 icons (meters) showing in a visual and text format your Score per minute, W/L ratio, K/D ratio and Accuracy ratio.
- Your number of kills per weapon type.
- A visual showing on which part of the opposing players body you make your % of hits.
3. Server: Shows various server stats, like the Gametracker one.
Sample s/s's of the Player stats page (3 provided due to size):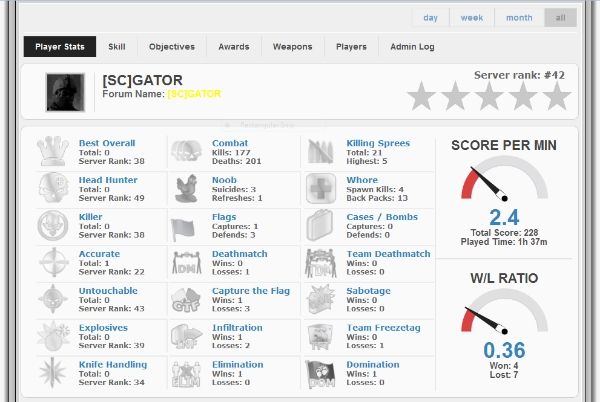 At the bottom of the Player Stats page you will also see the latest 8 maps that you played, along with your results for the map you have played.
Sample s/s: